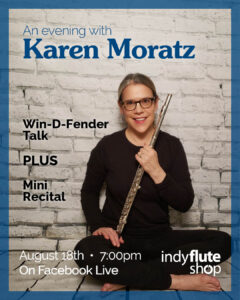 I am so excited to announce the very first Indy Flute Shop virtual event, featuring none other than Indianapolis' finest, Karen Evans Moratz! I have so missed hosting artists and events here at the shop, but unfortunately it looks like it's going to be a while before we will be able to safely do that again, so along with the rest of the music industry we are making the best of the situation! I can't think of a better, more talented, or kinder person to collaborate on this event with, and I really think you are going to enjoy what we are putting together for you.

Please join the Indy Flute Shop for a very special virtual event with Karen Evans Moratz– Indianapolis performer, author, entrepreneur, and Win-D-Fender representative. The Win-D-Fender sound guard was originally invented to help flutists play outside without the fear of wind silencing the sound. However, in the past few months it has gained notoriety as a tool to help combat the spread of air when playing related to COVID-19. Karen will give a brief talk on the Win-D-Fender and answer questions about the product. She will then perform a short recital of unaccompanied pieces. Read more about the Win-D-Fender on their website or the IFS blog.

Karen Evans Moratz is Principal Flutist with the Indianapolis Symphony Orchestra and Artist in Residence at Butler University. She has been on the faculty at the Grand Teton Festival Orchestral Seminar and the Aria International Summer Academy, as well as visiting Professor at Indiana University/Bloomington and the University of Illinois/Champaign-Urbana. She in demand as a guest artist and frequently teaches masterclasses, most recently at Northwestern University and at the Royal Academy of Music in London. She is the author of Flute For Dummies (John Wiley & Sons, 2009) and has been published in Pan, the magazine of the British Flute Society. Her cadenzas for Mozart's Concerto in G major have been published by Southern Music. She served as the Coordinator for the National Flute Association's Young Artist Competition 2004-2008 and has presented at several NFA Conventions. She is a founding member of the Greater Indianapolis Flute Club and the Indianapolis Baroque Orchestra. Ms. Moratz holds a bachelor's degree from the Peabody Conservatory and a master's degree from the Musikhochschule Freiburg im Breisgau. She was a member of the New World Symphony under the direction of Michael Tilson Thomas in 1988-89. She has studied with Britton Johnson, Tim Day, Mark Sparks, and William Bennett, and has recorded for NPR, Koss, London/Decca, and Arabesque.

Please note, this event will be pre-recorded and broadcast on Facebook Live. However, feel free to leave comments and questions while you are watching, as we will be answering them during the performance. We can't wait to spend this very special evening with you!