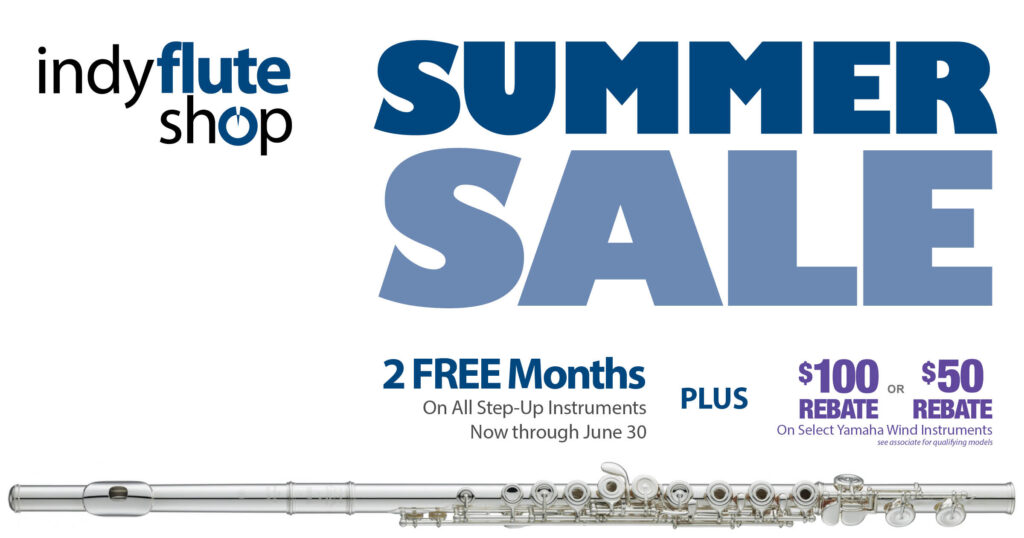 As school ends and summer begins, we're all looking for ways to safely ease back into some kind of normal, whatever that means. And what better way to get in the mood for summer than with a sale? We know that times have been tough, and many people have taken a hit financially, so we want to make it just a little bit easier for you to get a new flute or piccolo for you or your student. Now through the end of June, the Indy Flute Shop is offering a special promotion for all intermediate and higher level flutes and piccolos.

For this special promotion, you will be able to have your new instrument for two months before any payments will be due on our easy and flexible rent-to-own plan. Any rental that is completed online or in-store any time during the month of June is eligible, and your first payment will be due August 1. This applies to new rentals or our easy upgrade program from Paige's Music's Debut Rental Program. If you're not currently renting a beginning flute from Paige's Music, no problem! Here are some of the benefits of renting an intermediate flute or piccolo from the Indy Flute Shop:
1. Rent your instrument as long as you need it, until you pay it off, or until you return it. It's totally up to you. All of your payments go towards ownership of the instrument.
2. After a 3-month minimum, the instrument can be returned anytime if you no longer need it.
3. Transfer your payments to a different instrument if your interests change or you want to upgrade to a semi-professional model.
4. Repairs, tune-ups, and even total replacement of the instrument–it's all covered with no additional cost.
5. Loaners are free while your instrument is in the shop. We have a small number of higher-quality loaners available for Indy Flute Shop customers, first come, first served. These must be arranged with Erin.
6. Free delivery during the school year with our district managers to schools throughout the state.
7. You can purchase your instrument outright anytime during the length of your contract and save 40% on the remaining balance.

As if that wasn't enough of a great deal, Yamaha is also offering their Graduate to Yamaha rebate program this month. Rent a select Yamaha instrument and receive a $50 or $100 mail-in rebate. Information on Graduate to Yamaha is available here. If you've been on the fence about getting a beautiful new instrument for you or your student, now is the time! We are currently making appointments for instrument trials online, by emailing erin@indyfluteshop.com, or calling 317-813-2044. If you are currently renting a beginning flute and prefer to exchange your instrument online, we have options for that too. See you soon!

Offer available for in-stock instruments only. All Premier rental applications are subject to approval.