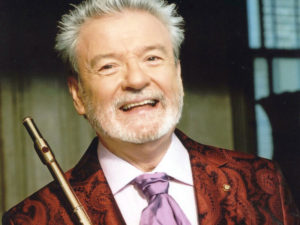 What an exciting day for flutists in the Indianapolis area–Sir James Galway, along with his wife, Lady Jeanne Galway, is playing at the Palladium at the Center for Performing Arts in Carmel this evening! We just received word of a very special meet-and-greet opportunity happening at 5pm sharp this evening, so if you are able, please join us and have the opportunity to meet the living legend of the flute before his concert at 7:30! Tickets for the concert are still available and can be found here.
James Galway is without a doubt a household name–if anyone, musical or not, has heard of any one flute player, it is most likely him. With over 30 million recordings sold worldwide, extensive international touring, frequent television appearances, and tireless promotion of the arts and his passionate work in music education, his experience transcends any one genre or style. He has influenced everything from classical masterworks to popular commissions, and he has also appeared on movie and musical soundtracks.
A native of Northern Ireland, Galway began his flute studies in Belfast. At the age of 16, he was awarded a scholarship to the Royal College of Music, followed by studies at the Guildhall School of Music and Paris Conservatoire. At the age of 21, he embarked on his orchestral career in London's major opera and symphonic orchestras. He took up the coveted position of solo flautist with the Berlin Philharmonic Orchestra under Herbert von Karajan in 1969, before becoming one of the very first flautists to establish an international solo career in 1975, amassing a discography nearing 100 albums over his career. He has played for numerous Presidents and celebrities, including He has played for such dignitaries as Queen Elizabeth II, Pope John Paul II, President William J. Clinton, President George W. Bush, President George H.W. Bush, Stevie Wonder, Henry Mancini, John Denver, Elton John, The Chieftains, Ray Charles, and Pink Floyd–just to name a few. Along with numerous gold and platinum albums, Galway has been honored with the Royal Knighthood for his services to music, as well as the Gramophone 2014 Lifetime Achievement Award and the Grammy President's Merit Award–again, just to name a few!
Sir James has no intention of slowing down after such an active musical career, either–he devotes much of his free time to furthering music education, sharing his wisdom and experience with the musical generation of tomorrow. The Galway Flute Academy, Sir James and Lady Galway's educational platform, enables them to nurture and mentor flutists of all levels through their various programs (www.galwayfluteacademy.com). He also continues commissioning new works for the flute, publishing articles, flute studies and books. To celebrate his legacy and commitment to flute players all over the world, he has partnered with Gemeinhardt flutes to create the Galway Crusader headjoint.