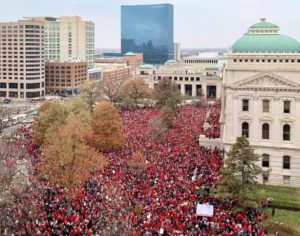 Downtown Indianapolis is seeing all shades of red today, and not just because of the upcoming holidays! This morning, more than 15,000 educators descended on the Indiana Statehouse to lobby for increased funding and a change in school and teacher accountability for public schools. Why should you care about this? Read on.
90% of students in Indiana attend a public school. That means the majority of Indiana's children are affected by the decisions our state legislators make regarding education. If your child does not attend public school, chances are they have friends that do. You probably know at least one, if not many, public school teachers. Currently, Indiana has some of the lowest paid teachers in the country, and we are also experiencing a shortage of public school teachers. Many of our schools do not have a school nurse, librarians, school psychologists, or school resource officers. The reason for this is not because these positions aren't needed, but because the funding isn't there to provide them. In addition to severe funding shortages, teachers are also protesting issues related to Indiana's standardized testing program, ILEARN. Currently, teachers are held accountable for their students' testing results, which does not take into account issues such as socioeconomic status, ENL learners, special education programs, and many other factors that are outside the teachers' control. Finally, teachers are also rallying for charter school accountability. Charter schools have become quite a hot-button issue in the past few years; they have funneled large amounts of funding away from public schools without being held accountable for their efficacy in successfully educating students.
Why do we care about all these issues? Here at the Indy Flute Shop and Paige's Music, we love public school teachers—they are the backbone of our business! We serve over 400 schools throughout the state, and the majority of them are public school programs. It is no secret that public school music programs have taken a hard hit in the past decade—sadly, they are often the first to go when cuts are made to public school funding. We all know that school band and orchestra programs are incredibly beneficial to students as they navigate their middle and high school years. Everyone that I work with at Paige's genuinely cares about the students that we encounter and want them to have the same music experiences that so many of us had—it's why we do what we do!
So what can you do to help? First of all, write your state and local legislators! Public school funding in Indiana is decided by our state senators and representatives. They need to know that we are watching how they vote and holding them accountable for the decisions they make in regards to our schools and our kids. You can find out who your state senator and representative are here. Secondly, if you have the means, donate to your favorite public school teacher!  Donor's Choose is an awesome platform that allows individuals to donate directly to teachers and help them purchase what they need for their classroom. Head over to their website and search for a project at your school to support. If you're a first-time donor, use the code ADVOCATES and your donation will be matched.