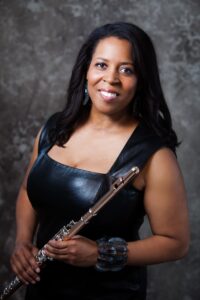 An often-overlooked but incredibly important contributor to the flute world, both as a composer and performer, Valerie Coleman is an iconic artist who has paved her own unique way to success. She has been named one of the Top 35 Women Composers by the Washington Post, founded several chamber performing groups, and has been a featured performer with numerous orchestras around the world. Her compositions frequently incorporate jazz styles along with political and social themes, and her piece "Umoja" was named as one of the Top 101 Great American Works in 2002.

Coleman was born and raised in Louisville, Kentucky, in the same inner-city neighborhood where Muhummad Ali was born. She began playing flute in fourth grade and immediately began to compose and write down music. Incredibly, by the age of 14, she had written three full-length symphonies and won local and state competitions, while performing in a youth orchestra. She earned a double B.A. in theory/composition and flute performance from Boston University, and then pursued her Masters degree in flute performance from Mannes College of Music. Her teachers during that time included Julius Baker and Alan Weiss. While still a student, Coleman formed the chamber group Imani Winds in 1996, seeking out other African American woodwind players who had a similar cultural background. In an interview with NPR, she said, "I used to be in the youth orchestra, and there were so many African Americans. But somewhere along the line, when I got to college, I was the only one in the orchestra. So I wondered what in the world happened here? It came to my mind that role models were needed." Today, Imani Winds' legacy is documented and featured in a dedicated exhibit at the Smithsonian National Museum of African American History and Culture in Washington, D.C.

Coleman's multi-faceted performing career has led her to be featured with the Philadelphia Orchestra, The Atlanta Symphony, the Hartford Symphony, Boston University Tanglewood Institute, Boston Symphony Orchestra Tanglewood Learning Institute (TLI), New Haven Symphony, Hartford Symphony Orchestra, Orpheus Chamber Orchestra, Music at Angelfire, Banff, Spoleto USA, Bravo! Vail, Carnegie Hall, and the Kennedy Center, to name a few. Her passion for chamber music performance is what guided her to become a top advocate, mentor and specialist of the field, with an extensive performance history of premieres and collaborations at festivals and chamber music societies across the United States, with esteemed artists such as Orion String Quartet, Harlem String Quartet, Quarteto Latinoamericano, Dover Quartet, Miami String Quartet, Ani and Ida Kavafian, Yo-Yo Ma, David Shifrin, Gil Kalish, Shai Wosner, Anne-Marie McDermott, Wu-Han, members of the LA Chamber Orchestra, and jazz legends Paquito D'Rivera, Stefon Harris, Jason Moran, René Marie, among many others. She has been an incredible contributor to flute repertoire and cultural diversity in the flute world.
Biographical information from www.vcolemanmusic.com/about1.html