We're here with the first "Paige's of History Spotlight", celebrating the 150th Anniversary of Paige's Music. Join us as we look back at the events that shaped our country, our state, and our company. For this video series, we'll be looking at snippets of local and national history as they relate to music education, music industry and our company.

So…it's 1871…
The great Chicago Fire rages through the city for two days straight.
A breathtaking 3,500 square foot Mile parcel of land was on its way to becoming Yellowstone National Park, and in the industrial city of Terre Haute, Indiana, William Harlan Paige, founded W.H. Paige and Company on the corner of Main and 6th Street with his business partner, W.B. Wharton.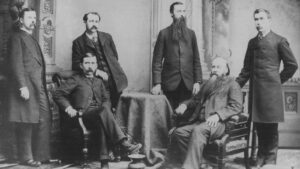 The downtown Terre Haute store was a full-line shop for everything related to music. W.H. Paige was known for his fine tenor voice and sold his own choral arrangements at the store as well. Some might argue that W.H. Paige's success is due to William's experience of being THE first music teacher in the Terre Haute Public Schools, giving him first hand knowledge of what schools would need for years to come.

Just nine years after the opening of the store, H.W. Beckwith wrote, "He has built up a large and extensive business, and by fair dealing and courteous deportment has won for himself the good will of the public and a liberal share of their patronage."

Because there were a limited number of established musical instrument manufacturers at the time, stock levels and inventory variety would vary according to the availability of supply. A patron in the early years might find Martin guitars, Steinway, Kimball, and Wurlitzer pianos and organs, sheet music, and various accessories.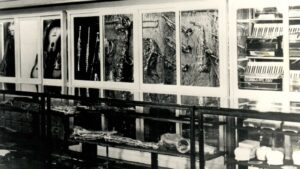 Let's take a quick look at what else was going on during Paige's first 10 years of business.

In 1874, musician and entrepreneur C.G. Conn began designing mouthpieces, and in 1876, the Conn Four-In-One Cornet was debuted. We still carry Conn instruments at our store today!
In 1877, the Indiana Music Teachers Association was founded. That same year, Thomas Edison debuted his newest invention, the phonograph.
And in 1880, the same year that Wabash, Indiana became the first city in the US to be illuminated completely by electricity, a band director named John Philip Sousa returned as conductor of the US Marine Band. He led "The President's Own" band under a total of 5 presidents.

That's all we have time for now. Make sure to follow us on Facebook and Instagram as we continue to celebrate our 150th Anniversary!

We'll see you next time!