A little over a month ago, I featured a blog article on mindfulness by Donna Wilson from mommysgottapractice.com. (If you missed it, check it out here). Donna is a local performer and teacher in addition to running her website dedicated to juggling parenthood and a professional musical career. Now, you get to learn a little more about her background and what she does!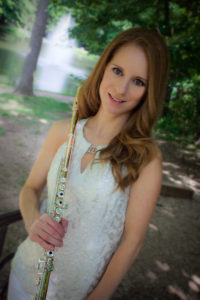 1. When did you start playing flute? Did you always know you wanted to play an instrument, and what drew you to the flute?
Like most kids in Indiana, I started playing flute the summer going into my 6th grade year. I was introduced into the band program a few years earlier because my older brother played saxophone in band. When I went to his concerts, I had originally thought about playing clarinet. My youngest aunt had played clarinet all through school, so I would have one available to me, and I thought it sounded interesting. But something kept pulling me to playing flute. I think it was the idea that I would be in the front row if I played flute! Haha! But, also, the instrument always looked so elegant being played to me. Well, I was hooked from the start. I honestly could not put my flute down once I got it in my hands! I begged for lessons so I could get better more quickly, and my first teacher was so kind and encouraging. I loved it every aspect of playing flute, and I played for hours nearly everyday that first year, let it go a bit in junior high school, and found the love for it again in high school.
2. What made you decide to pursue music as a career?
I had no idea that you could make money from playing an instrument until my junior high school band director mentioned it at the end of my 8th grade year. He told me to keep working at it, and maybe some day I could make a little money from it. I remember being floored by the idea. I think that planted the seed, but it wasn't until I started taking lessons from Becky Price Arrensen my Sophomore through Senior year of high school that I thought about majoring in music in college. Her encouragement was the turning point, I think.
3. Tell me about your education experiences, in high school, college, and beyond.
My first major music experience outside of school was in high school. My senior year I played piccolo in the New World Youth Symphony Orchestra. I loved it and gained so much from that experience. I also was invited to play in the U.S. Collegiate Wind Band, a band made up of high school students from all over the U.S., and we toured 9 European countries, giving 13 concerts over 21 days, rehearsing several days in New York City before the tour. It was a whirlwind, but it still remains one of the most incredible experiences I have ever had!
I studied flute with Kate Lukas at the IU Jacobs School of Music, graduating with High Distinction in 2000. It was hard work, but I loved my time there and improved greatly from her teaching and from some work with Thomas Robertello, as well. I also was lucky enough to study with some guest teachers such as Donald Peck (Chicago Symphony Orchestra) and Kate Hill (Royal Academy of Music) when Kate went on sabbatical my Junior year.
After some years of working and freelance performing, I auditioned for and was accepted into the Royal Northern College of Music in Manchester, England, studying with Peter Lloyd, as well as Laura Jellicoe and piccolo with Jo Boddington. In 2007, I received a Master of Music with Distinction there. That was a phenomenal experience! Not only did we get to study with our principal teachers at the college, but they also brought in teachers from the Royal Academy of Music in London, as well as some world-renowned flutists from various orchestras, such as the Royal Concertgebouw Orchestra (Netherlands) and the Northern Welsh Opera Orchestra. I also had the opportunity to perform some collaborative recitals at St. Augustine Catholic Church, which at the time served as the RNCM and University of Manchester chaplaincy, as well as being the guest artist at the Pennine Spring Music Festival in Heptonstall, England. This was a week of giving lunch-time recitals – a fantastic way to practice for my final Master's recital! – and culminating in an orchestral concert where I performed from memory, as soloist, an orchestral arrangement of Flight of the Bumblebee. That was super fun, and it went incredibly well, but it was also the scariest 2 ½ minutes of my life!
4. What are you involved in now? What is your main job, and what side gigs do you have if any?
Currently, I am Adjunct Professor of Flute at Indiana Wesleyan University in Marion, IN. I teach applied lessons and flute ensemble, a required course for those on scholarship. I am also Second Flute with the Columbus Indiana Philharmonic, and substitute flute/piccolo with the Indianapolis Symphony Orchestra. I tend to play in collaborative recitals during the year, which I really enjoy!
In 2014, I started a blog called Mommy's Gotta Practice: www.mommysgottapractice.com. So many people were asking me early on how I manage life being a mother to three very small children and keep playing as much as I do. I found that I really enjoy sharing my thoughts and insights on what has worked for me so much that I thought it might be fun to start a blog and write about it. What I love so much about my blog is that it gives me a chance to get my ideas out into the world, but, more importantly, to help other mothers who might be struggling a bit or just want to have someone to share experiences with. We need each other! It takes a village, after all. 😉
5. Tell me any other interesting things about yourself. Something musical, as well as anything non-musical that you are interested in!
I really enjoy challenging myself with fairly intense workouts and 3-mile runs, as well as just staying fit and healthy in general. I enjoy playing with my children, of course, and date nights with my husband.
One thing that I really enjoy, as well, is gardening. It's quite relaxing to sit and pull weeds for a few minutes, actually! There's just something about digging in the earth that is so rejuvenating. I think it brings me back to being a kid and helping my mother in her garden. Anything to decompress, right? I'm happy doing a variety of gigs and hobbies, as long as the enjoyment is still there.