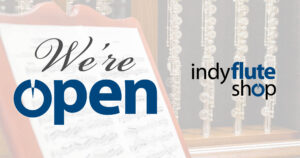 As of Saturday, May 16th, I am happy to report that the Indy Flute Shop is open for business! Of course, the safety of both our staff members and our customers is our utmost concern, so we are implementing several policies to help keep everyone safe. We truly appreciate your understanding and your support!

1. Face masks will be worn by staff members, and we ask that you do the same. The Indy Flute Shop is a small, enclosed space. Of course, your mask may be removed when trying instruments.
2. Due to the size of the shop, only two guests will be allowed in the shop, in addition to Erin, at a time. We have additional seating located outside the shop area.
3. Please wash your hands or use the hand sanitizer provided in the store before entering the shop.
4. All instruments on display have been properly sanitized and are available to play, but we ask that you wait for assistance before handling instruments.
5. Customers are limited to testing four instruments. This should give you plenty of selection to make a decision on the perfect flute for you.

Most importantly, instrument testing is offered by appointment only, please visit www.paigesmusic.com/schedule and select "Indy Flute Shop In-Store Instrument Testing" to schedule your appointment. This ensures that I have ample time to disinfect the shop area and prepare instruments for your testing needs. With your cooperation and our safety protocols, I can help you select the perfect instrument for you or your student's needs! I have so missed my customers and look forward to seeing you again!