You've been asking for it for years now, and the time has finally come: the Indy Flute Shop has a bass flute available to rent! Up until now, bass flutes have been a special-order, outright purchase only option due to their price and lack of demand. However, in the past 5 or so years, we have seen a huge increase in interest for bass flutes due to its growing popularity in both flute ensemble pieces and band repertoire. And my job is to give the flutists what they want, so I am happy to present the Trevor James bass flute, available to rent for $165 per month.
The Trevor James bass flute is an excellent addition to the low flute family. The hand finished 925 silver lip and riser headjoint enables the bottom register to project freely without compromising the top octaves which can be reached with ease and clarity. Excellent tonal color and dynamic facility combine with soldered tone holes, French style pointed key arms and a well designed mechanism to create a superb and exacting bass flute. Comfortable as a solo performer or in a flute choir, the Trevor James bass flute is handmade to exacting standards without compromise. The full specs are as follows:
Soldered tone holes (yes, really!)
'French-style pointed' key arms
Pearl touch-pieces
Copper-accented crown
Bb to B left hand thumb key roller
Comfortable left and right hand positions
Hand-turned and shaped wooden left hand support crutch
Deluxe wooden case with purple lining and pocket
Case cover with shoulder strap and carry handles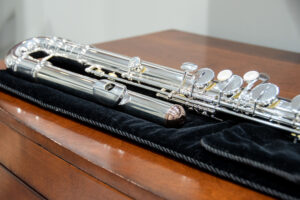 Isn't she a beaut?? The outright purchase price for this instrument is $3,595, or available on Paige's Music's Premier rent-to-own plan for $165 per month. The rent-to-own plan is flexible, so you can make payments towards ownership of the instrument, take advantage of our early payoff discount, or simply rent it for the duration of time you need it. Please note, there is a 3 month minimum on this agreement.
If you are part of a flute choir that is missing those big beefy bass notes, have a high school student performing in an ensemble, or simply want to dip your toes into the low flute world, call or email Erin to come check this fun instrument out!